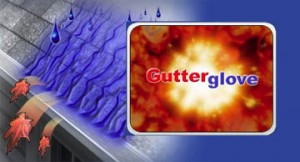 Having cleaned gutters since 1992, we have seen every kind of gutter cover imaginable on the market, and we can't begin to count the number of times we have had to clean out the gutters that these covers were supposed to keep clean.
If you search the web, you will find many people do not recommend using gutter covers. They are usually a rip-off, usually in cost, and nearly always in function.
Whenever we received a solicitation by a gutter cover manufacturer, I did my usual quick glance at the postcard, thinking I would file 13 it. The picture of the cover caught my attention. So I looked at their web site. The web site really caught my attention. So I called the manufacturer and asked them a lot of questions about their product. After answering my questions, they referred me to a dealer in Columbus, Ohio.
I went to Columbus and talked to their dealer who has installed thousands of linear feet of Gutter Glove. He answered all my questions and showed me some of his installs. I was sold. I finally found something that would actually work. Then, to top it off, I found an article in a local newspaper by a nationally syndicated home improvement columnist, describing how he had put Gutter Glove on his house. Ask me, and I will show you his article.
A few years after we started installing Gutterglove Pro, Gutterglove introduced three other gutter cover products, LeafBlaster, Gutterglove Ultra, and Gutterglove IceBreaker.  With LeafBlaster, Ultra, and Pro, we have three different price points to better reflect your budget.
With Gutterglove IceBreaker, we have the ability to put a heat tape in the Gutterglove that will keep it, your gutters, and downspouts from freezing in the winter.
Call Sonrise Services today to learn:
Why Gutterglove is the highest rated gutter guard and the best value!
Why Sonrise provides a better service for less money.
How a Sonrise knowledgeable salesperson can answer all your questions specific to your exact needs.
Which Gutterglove product is best for your home and matches to your gutters and roof type.
It's that easy with Sonrise Service!
Call Jerry today at 937.436.4499 for a Free home evaluation and price!